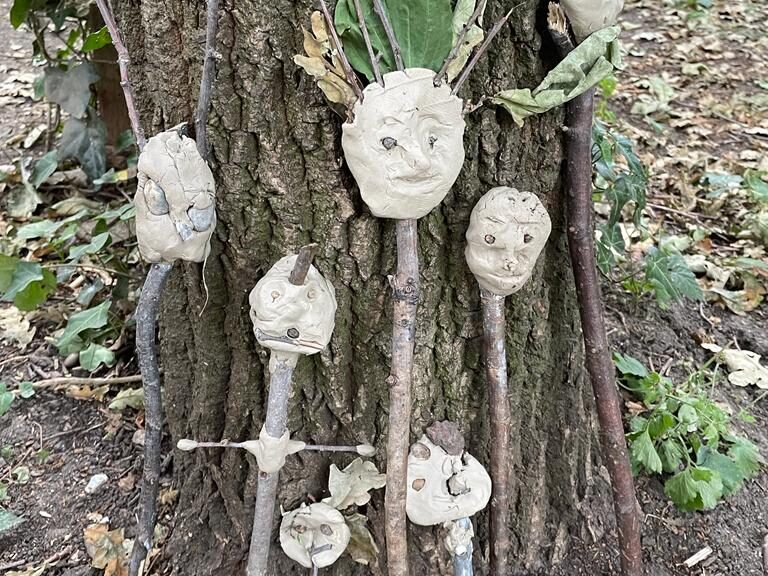 Mud Club Fun on Albion Millennium Green!
Mud Club Fun on Albion Millennium Green!
On Saturday 9 July about 25 young Mud Club members had a day out on the Green. Mud Club is an outdoor arts and crafts session for children aged 3 and over. One of the club leaders, Ellie Weedman had this to say!
"What a wonderful day we had! Our job today as a team was to put some magic into Albion Millennium Green!! We truely did! It was a magical 4 hrs of very busy fun and exploring! It was lovely being somewhere new! A kind of new energy is always fun!
We had epic camp building by the children! The woodland lends itself so well to this! It's also amazing for tree climbing! A treehouse was constructed with ropes, fabrics and a parachute!
We made wonderful listening people which were clay heads on sticks with crowns of sticks and hair of leaves! Our listening people were then taken on a tour of the site and we listened for frogs, birds, planes, trains and the rustle of our feet though the grass and undergrowth!
Buzzy bees were made with pine cones, hand puppets constructed, a zip line was set up by a little group, tug of war, engineering with clay and bricks and sticks and stones! The creativity was magic in itself!
Slack lines were wonderful for a bounce and the new swing was a huge hit!
One of our favorite moments of the day was watching the children sit like statues in the sunshine in the hope that one of a group of butterflies would land on them. The squeals of delight when one did was magical. Using the butterfly identification sheet we reckon we spotted a Speckled wood butterfly. We also had the butterfly club where a group of them sat in a circle sharing butterfly stories. It is so interesting to see the thirst for knowledge in ones so young! It reminds us to just stop and listen and learn things each and every day as they do so willingly! Perhaps one of the ways to stay young!?
So many wonderful, magical, joy filled moments today!  We could feel the nature around us smiling and coming to life with the joy that small people always bring with them and share unconditionally." 
(All photos reproduced with permission.)